Running a business is like exploring a lost city to find a valuable treasure in an Indiana Jones movie. There are too many traps and pitfalls with countless variables. Even, milestones change with each stage. For instance, an early-stage startup focuses on having its product validated and acquire paying customers. But when they move to the growth-stage, the focus shifts to scale. Then there are factors like infrastructure, cash influx, tech support, feature shipment, user story and vision alignment, business development and others that could wreak havoc and send you off the track.
Most of these concerns can be addressed with the right tech team. But there's a catch. What sort of team you should you hire? An in-house software development team or an offshore tech team?
However, when you have too many factors riding on a single choice, you cannot go wrong. If you do, then it might be the end of your business. In fact, the findings of CBInsights suggest that 14%of startups fail because they choose the wrong tech team.
Let us discuss both types and their pros and cons.
In-House Software Development Team
Developers and tech experts from within the company form the in-house team. This kind of dedicated technical team works directly with the business owner, which has many benefits. Startups prefer in-house teams as developing a product becomes easier with shared cultural values and working methodologies. There are other benefits as well.
Advantages of In-House Software development Teams


Impacts More with Proprietary Technologies

Startups often develop their own technologies and offer them to clients as a core proposition. This makes businesses more vulnerable to breaches in intellectual property, which your rivals could leverage for personal gains.

If your company is doing the same and is promising clients to transform their business with your unique technology, then hiring an in-house team is the right option.

Maintains Direct Communication

In-person communications can prevent hassles regarding vision alignment. With an in-house team, you do not lose time over emails and calls. You just meet your team and convey your concerns to find a quick solution.

Provides Control over Product Development

In early-stage startups, entrepreneurs prefer an in-house team mostly because they want to have full control over their product development process. Planning the next step becomes easier with the knowledge of who is involved in your product development and in which stages they are.

In-house tech teams also provide scope to quickly iterate and pivot. It simplifies processes for a startup that is not sure about how the end product is going to behave or impact.

Adheres to Your Company Culture

Each business has its own needs and practices. The productivity of the tech team increases when they know the culture of the company by heart. For instance, not many software development teams are familiar with the startup ecosystem. Collaborating with such a team could be excruciating in terms of both time and cost.
Disadvantages of In-House Software Development Teams


Incurs High Cost

For an established business, the cost is not a concern but for a startup, it is. Startups work with limited funding. In-house teams cost more and it is very difficult for a cash-strapped startup to hire one.

Retaining Talent Becomes Difficult

Software developers are now experiencing high demand. Employees, especially at the higher level, are getting alluring offers and for a startup, it is very difficult to retain employees with a better counter offer. An in-house team might experience an outward flux because of this and if that happens to you, then you have to worry more about hiring instead of product development.

Finding the Right Talent

Entrepreneurs want the best for their products. That is why they tend to focus on hiring experts in all fields. But this is a time-consuming process. Also, hiring experts for a temporary job is not a feasible idea.

Creates Distraction

Setting up a business requires focus on a lot of things like client acquisition. In-house teams keep entrepreneurs engaged with product development and team building due to which other fields get neglected.

Impacts Scaling

When a startup scales, they hire more developers and when they scale down they fire people. But firing people from an in-house team can have a debilitating impact on the team morale. On the other hand, if they hesitate to fire, then they will get stuck with a large team with no work.
Offshore Software Development Team
In 2020, McKinsey published a report where 87% of businesses disclosed that they were experiencing a gap in their IT teams. This is happening as they are facing recruitment bottlenecks. Hiring individuals and experts for different fields is a challenge and that is why companies prefer to lessen their hiring burdens by outsourcing their software development requirements to offshore teams.
Advantages of Offshore Software Development Teams


Reduces Cost

Offshore tech teams from countries in the Asia Pacific and East Europe offer tech experts at a much lower cost. Startups can leverage their expertise without spending much on resources. It will help them to focus more on business and product development instead of worrying about investors.

Provides Expertise

Young entrepreneurs, startups, and businesses, trying to explore a new domain, often lack the required tech expertise to become successful. Offshore software development teams can provide the needed skill as they have a pool of diverse talents.

Startups are often trendsetters. You might have a similar business but offshore tech teams have the experience of developing products from the scratch. They can easily guide your business towards success.

Gives Freedom to Scale Up & Down

Offshore tech teams work on several projects simultaneously. They have a huge pool of tech resources from which they create teams for businesses. When these businesses develop needs for scaling up, offshore software development teams can add talents to match the growth. Also, they can remove the human bandwidth when the need for scaling is low. You only have to bear the cost of the resources involved in the project, which helps them manage their fund.

Guarantees Time-to-Market

Getting product-market fit in time is crucial to beating the competition. Offshore tech teams can guarantee the same by managing sprints and saving time in team formation. Also, they have experience in operating R&D, which simplifies the process of developing POCs and developing products.

Owns the Product

Offshore development teams come with a wide range of technical expertise and they have experience of developing multiple products from diverse fields. Their product engineers can take decisions on their own to secure better outcomes quickly. By taking ownership of the product, they ensure that entrepreneurs focus more on the other business aspects and streamline the product roadmap.
Disadvantages of Offshore Software Development Teams


Struggles with Time-Zone Difference

Most of the startups are from the US and offshore teams are from India and East European countries, which means a gap of 10-12 hours in time. Crucial discussions between the product owner and engineers suffer due to this difference.

Also, offshore software development teams often struggle with multiple communication overhead. These factors lead to multiple iterations and delays in product launches.

Less Control over Product Development

When you team up with an offshore development team, you hardly get any opportunity to control or monitor the entire product development process. As a result, your product deployment might get delayed due to iterations and you can face obstacles in your product roadmap.

Vision Mismatch

It is difficult for a remote dedicated software team to understand your vision and imbibe that to deliver what you want. There could be multiple reasons from cultural differences to lack of segment understanding and others.

Misaligned visions could affect your steps like feature shipment, product fitment, time-to-market, and customer acquisition.
A Comparative Study: Inhouse or Offshore software development team?
To onboard a tech team, analyze your product requirements first, then set them according to their priorities. After that, assess all the factors and decide what type of team you want.
Let's study the possibilities against factors.
Are you an early-stage startup? Your product could definitely benefit from the pros of an offshore software development team. They do not incur high costs like an in-house team. Since the fund is a concern for you, they could be your perfect match. Also, when you get a team that knows how to develop products for startups, you can directly go for getting product-market fit instead of spending valuable time in hiring.
Is your employee strength less than 30? If so, onboarding a remote software development team could be beneficial as hiring an in-house team could be a cumbersome process.
Looking to scale extensively and rapidly? It requires the right people at the right place to get which is easier with an offshore development team. They could easily increase your engineering bandwidth.
Have full-time in-house experienced CTO/Tech Heads? Having an in-house tech leader who knows well about the product and understands the segment you want to disrupt could give you the flexibility to go for your preferred options.
Do you have easy access to affordable local talent? If yes, then go for an in-house team as the cost is crucial to ensure proper fund allocation for different segments.
Do you have experience in handling successful products for your industry? If you have the experience and also bandwidth to do so, then in-house teams could help you avoid pitfalls. You can set up the right processes quickly and start scaling.
Do you have a clear product roadmap? If yes, then both types can take your product to the next level. But if it is not, then having an expert offshore software development team could be the right choice.
Looking for a flexible engineering team? Offshore tech teams are highly adaptive and they can easily manage unforeseen events due to their flexibility.
Need a team with cross-domain skills? Offshore software development teams come with experts who have experience working in different domains. The diversity of their skillset often helps them to come up with unique solutions for your problems.
Want greater control over day-to-day activity? In-house teams provide you with communication benefits, which means better monitoring facilities.
Want to compete with tech giants for talents? You might struggle with retaining your own team members if you are a startup. But a big firm can definitely benefit from an in-house team because they attract talents easily.
Want to hire team members with a startup mindset? It is a difficult process and requires effort and time, which may distract you from your other focus areas. Instead, you could onboard an offshore development team with startup expertise.
Solution: A Dedicated Offshore Software development team.
Thanks to technology, depending upon in-house teams to have greater control and flawless communication is no longer necessary. A technology partner with decades of experience and dedicated offshore software development teams can bring the best of both worlds. These teams emerge as a better option when they provide around 2 hours of overlapping working time, enough to discuss tactical and strategic activities.
What matters is a dedicated team built of experienced team members who have worked on similar technology products and are aligned to the product vision. Such teams are cost-effective and share invaluable access to their knowledge repertoire to help you avoid re-inventing the wheel of innovation. Resultantly, it ensures a faster transition to a market-ready product. Access to quality talent and domain experts, together with the flexibility to change team composition without worrying about local competition for quality talent, reduces the risks involved with events like the Covid-19 pandemic or other geopolitical shocks.
You can also consider a hybrid model with an in-house team working closely with an offshore team to leverage both models.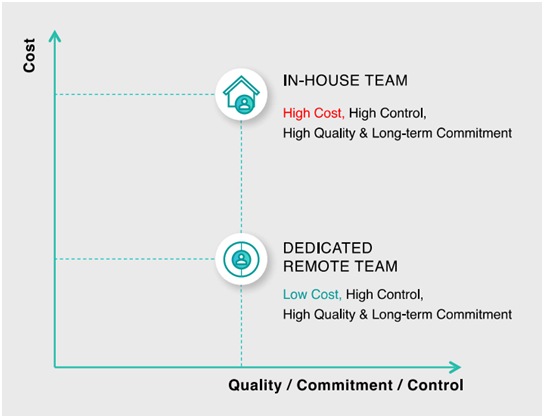 The above diagram highlights the advantage a dedicated offshore tech team has over an in-house tech team.
Things to Consider Before Hiring an Offshore Software Development Team
We have assessed our 170+ product development collaborations to understand the dynamics of early-stage and growth-stage companies. Questions that primarily bother a business before they decide to onboard an offshore software development team are:
What do I require to get started?
How do you decide your partner's credibility?
Am I going to have IP-related issues?
How much time do I need to spend managing remote teams?
Will they adhere to our company's culture?
The following insights can help you in hiring the right offshore software development team.
Be clear about what you want.

Your growth depends a lot on clarity. Demands from a business change with each passing stage. At the seed level, you might need a product fit for the market. But when you are in Series A or higher, you look for scaling. When you turn mature, you may look for someone who is an expert in providing AI development services or Blockchain development services.

You have to evaluate the offshore software development team's offerings against these requirements before you decide to onboard them.

Decide whether the team has credibility.

Legit listing websites could be your first choice. They have lists of potential offshore software development partners. You can then check client testimonials, especially from CTOs and technology heads, to understand how you can leverage their expertise.

Understand the security concerns.

Since you are working with proprietary technology, review the legal documents in detail to understand how they are going to resolve IP issues. Otherwise, you incur heavy losses in cases like data breaches and industrial espionage. Go for the one with an impeccable record of adhering to contracts. As a thumb rule, check the customer they have worked with and for how long- higher average tenure means better reliability.

Evaluate pricing options.

You may receive cheap quotations from teams but check how long they have worked with companies. Tenures get extended when teams earn a higher level of trust by delivering products without deviating from the product roadmap. In general, time and resource-based pricing models are much better than fixed-bid ones for complex or core product development projects.

Review how they handle the team.

As an extended tech partner of your team with an obvious time gap, the offshore development team is bound to have communication and vision alignment issues. Check out how they have a structured team, how they reduce communication overhead, and imbibe the product vision to deliver products on time. Also, review how much ownership each member is going to take to let you focus on other business priorities.

Our VP of Engineering, Sanjoy Singh has written an article published in TechCrunch highlighting the importance of hiring a product team aligned to the vision based on his experience of handling more than 50 product development teams.

Check what values they would add.

How do they judge product requirements? How do they decide on feature shipment? What do they do to address tech debts? What's their understanding of your ecosystem? All these questions are pertinent to assess the value the offshore engineering team is going to add.

Test their potential.

Do not fall for the pricing trap. Instead, ask the shortlisted team to give you a trial run and monitor their performance. Proof of Concept or POC is also good for assessing problem-solving expertise. Lastly, you can interview the key stakeholders to understand their take on your product.

We have an article dedicated to the step-by-step process to hire the right offshore software development partner.
Conclusion:
Both early-stage and growth-stage startups wade through uncertainties. Offshore software development companies could efficiently handle such scenarios as they have the experience of developing multiple products for different domains. Their versatility helps them adapt to dynamic needs and deliver products even when the roadmap is not clear. In addition, they bring in flexibility, cost-affordability, and best talents and reduce HR-related issues like attrition rate, training efforts, etc.
We, at Talentica Software, have enabled 170+ early and growing-stage startups to build incredible technology products. If you are looking to hire a dedicated software team, you can check our offerings.