Building a startup is not an easy journey, and when it comes to investing money in Startups, it can be risky too. Many entrepreneurs without adequate startup VC funding start bootstrapping to get the ball rolling and secure suitable funding to make their ideas into valuable products.
Although there are many ways to secure initial funding, an excellent initial VC funding sends a positive signal to other prominent investors and validates the importance of the startup idea. Apart from VCs and angel investors, one can secure funds through a traditional loan from a bank, a microloan, borrowing money from friends and family, personal savings, crowdfunding, grants, etc. On a fundamental level, investors differ from lenders; thus, it is crucial to understand what investors look for before investing in a startup.
Present Startup VC funding scenario in the US
According to Pitchbook Q1 2022 US VC valuations report, the median early-stage VC funding deal value has touched the highest ever $10M US mark in Q1 2022. Significantly, the angle and seed market is still riding high due to the momentum created over the past couple of years. So, if you are looking for early-stage VC funding, this is the best time to go for it.
But, in the first quarter 0f 2022, US VCs were able to raise more money successfully for new funds compared to the entirety of 2019, as shown below.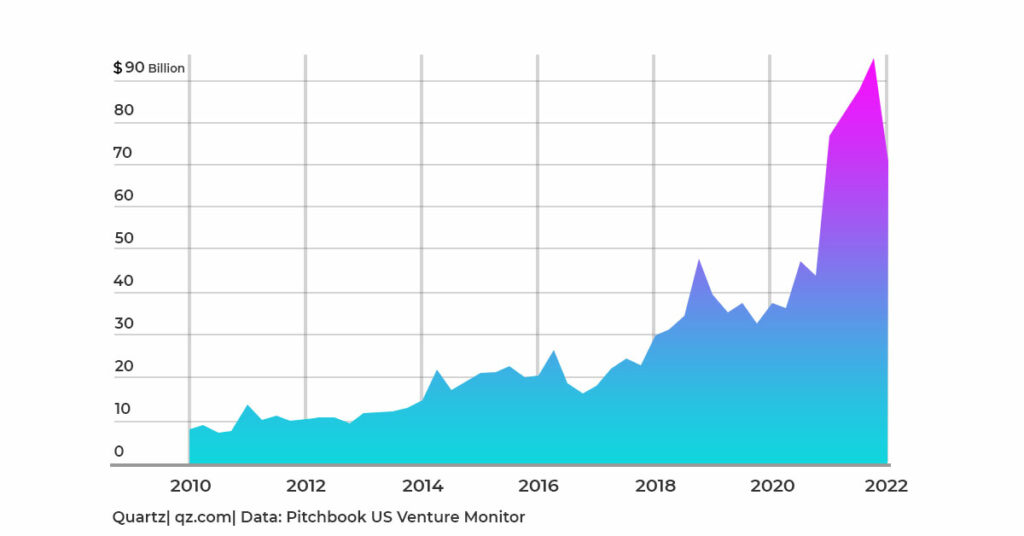 A slowdown can be seen, which shows that investors are looking at the current conditions in the light of inflation, war in Ukraine, poor IPO market, and chances of recession. An analysis of the PitchBook in March presented that last year's ten biggest techs IPOs lost between 18% and 68% of their value after going public. But, if the startup is at an early stage, there is less to worry about in the public markets. 2022 is the year where we can see that the startup VC funding, especially Seed and Series A VC funding has seen a significant increase.
5 reasons your startup will get a VC funding
Pitching your ideas to VC investors can be intimidating, and you must first put yourself in an investor's shoes. An Intelligent investor knows when and where to invest both money and time. Apart from the startup idea, they will be looking for a stable and experienced team, unwavering commitment, a clear vision, business relevance, and a deep understanding of the market.
In this article, we have tried to cover all important questions. Let's go through the five most important things that any investor would love to look for in a startup before committing VC funding.
Experienced and passionate founders:

Before an investor decides on an idea, they invest in the people. While the business idea is crucial, VCs also pay attention to the drive of the founders or management team.

An accomplished founder understands what it takes to build a successful startup and can drive success. At the same time, an experienced management team gives a sense of security to investors in comparison to a new or inexperienced one. A highly dedicated team with a passion for the business, founders devoted to the prosperity of their startup, clarity on the business roadmap, and availability of necessary skills to get the job done, provide a high chance of receiving VC funding for your startup.

Unique idea with a big market size:

Investors look for a business opportunity that has growth potential, and both the investors and users get psyched about new and innovative products. So, the crux is that if the market is already flooded with products like yours, the chances are extremely bleak to attract investors. Similarly, if your market is limited to your location or a very niche audience, the chances of securing startup VC funding go slim.

Try to identify a market for your product with significant customers. Even if your product is not new in the existing market, you must work towards having a demonstrable competitive advantage; this can hold firm ground in front of the investors. Convey your potential investors that your product has the X-factor to stand out.

Masterful business roadmap:

A strong business roadmap exhibiting knowledge, clarity, and competency of the market, financial-related strategies, a detailed product roadmap aligned with business milestones, high business scalability, excellent domain experience, and expertise, etc. provides an excellent reason for VC investors to fund your startup. An investor will always look for a business plan that is well-structured, data-driven, and profitable in a pitch meeting. Build your roadmap in such a way that can rightly showcase your organizational goals, market strategies, operating plans, competitive analysis, and financial-related expenses. In short, to get your startup VC funding you need to get your numbers right.

It would help if you tried to maintain your business roadmap's uniqueness but followed a standard template containing three parts: business concept, market insight, and financial information. So, before presenting your business plan in front of the VC investors, go through it thoroughly again and again.

Proper exit strategy:

VC Investors mostly have questions like how much to invest, when to invest, how much return to expect, and when to get it? You can smartly answer all these questions if you have made a detailed financial projection.

Ensure that your investment-related projection includes the following:


A thorough description of the assumptions behind your model
Set up financials that should consist of the income statement, balance sheet, and cash flow statement
An ROI analysis capturing multiple ROI calculations
Analysis of key variables
Cash sources and their uses report

Prepare this model in detail with monthly details to identify the cash shortfalls. Underestimating the need in your modeling is something you should never do, and VC investors always want to see when they can expect returns and how large those can be. So, to be perfect with your finances, you can also bring in experts who can help you build a financial model.


Share a common goal:

Not having a shared vision with your potential investor can break your potential to get the startup VC funding. There should be something that must click for an investor to envision that your startup is worthy. Starting with a good impression and establishing a genuine connection goes a long way in the investment journey.

VC investors want an authentic, enthusiastic, and driven startup to resonate with their common goal. Always remember that they are also human beings, and treat them with thoughtfulness and understanding. Give them something they can believe you with, and you never know that you will get a great investor and a friend.
Final words
So, if you are planning to raise startup VC funding, it would involve both science and art to get the desirable funding from investors. As a startup founder, you should seek tailored advice from suitable sources. Knowing extensively about the correct financial strategies that would perfectly fit your startup to secure the capital for fast-track growth is also essential.
If you look at the startup funding ecosystem closely, money is a major concern for several startups. Therefore, before you jump into the pool of investors seeking investment, have the proper knowledge to swim through it like a winner.
Talentica, in the last 19 years, has served more than 170 startups as a technology partner to build successful tech products. Do reach out to us if you are looking for a software development partner experienced with startup product roadmaps.